NeNe Leakes Sued By Wedding Planner, Says Claims are Bogus! [Details]
Rucuss staffJuly 28, 2013
Real Housewives of Atlanta star NeNe Leakes remarried ex-husband Gregg Leakes in a lavish, million-dollar wedding ceremony in June, and now a celebrity wedding planner is suing her for more than two million dollars in unpaid services.
The planner, Tiffany Cook, claims that Leakes brought in her Dream Design Weddings company to plan the party for her wedding day on June 22. She also claims that Leakes promised her 15% of the wedding budget as well as fees for design and execution of the wedding and travel expenses, TMZ reports.
The budget for Leakes' wedding was $1.8 million of which Cook says she was entitled to $270k plus another $889,900 for design fees and $1750 for plane tickets from Florida to Georgia.
Cook, who claims she was initially paid a down payment of $18,750, hasn't received anything since then. She is suing for the balance of $1,142,900 plus damages. In total Cook Is asking for more than $2.5 million for her troubles.
A rep for Leakes told TMZ that the planner used for the wedding was a man named Tony Conway and not Cook. This lawsuit has no merit and it appears to be a baseless attempt to grab 15 min of fame."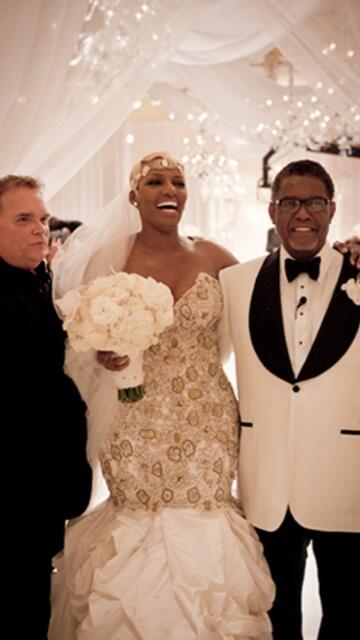 Leakes also vented about the suit on Twitter. She posted the photo above with the caption: "Here's a photo of me, Gregg & our wedding planner Tony Conway! I can't b telling the truth because all I do is lie." She also tweeted, "My wedding planner was Tony Conway & I don't owe him a dime! My wedding was paid 4 n cash! Tune n Sept 17th @ 9pm on Bravo & see 4 yourself!"
Check out more of Leakes' rant below.
Photos via Twitter and Atlantablackstar.com
Related
Subscribe via Email
Archives