Lil B Says James Harden's Wrist Move Is His, Threatens Curse
Rucuss staffMay 22, 2015
Houston Rockets star James Harden may want to stop doing his signature celebration during basketball games.
Golden State Warriors fan Lil B claims the 'cooking move' Harden does after scoring was stolen from him. And if he doesn't stop doing it he will put a curse on hime.
Lil B claims that the 'cooking move' is the same as his dance move. But Harden insists he emulates Houston rapper Chedda Da Connect's move from Flicka Da Wrist.
The Bay Area-born native also known as The Based God announced on social media that he thinks Harden stole his move.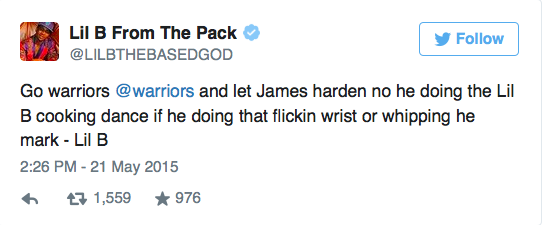 Lil B also told TMZ, "If Harden doesn't tell what he is doing, which is the Lil B cooking dance, he will be cursed. He needs to stop stealing Lil B's swag without showing love."
According to TMZ, Lil B is giving Harden until after Game 3 of the Western Conference finals against the Golden State Warriors before the curse comes into effect … although the consequences likely would have to be greater than losing to the Warriors, which is a probable outcome even without a curse.
Watch Harden do his version of the 'cooking move' below.

Watch LiL B explain how to do his version of the 'cooking dance' below.
Watch Chedda The Connect's video below.
Related
Subscribe via Email
Archives