Beyonce Debuts Her "King Bey" Isabel Marant Wedge Sneakers [Photos]
Rucuss staffFebruary 26, 2013
Beyoncé made room in her busy schedule to help create a new sneaker for Isabel Marant.
PMK, which designed her husband Jay-Z's Air Jordan 1 sneakers "Brooklyn Zoo," specially designed a pair of wedge sneakers in honor of Beyoncé called the "King Bey" Isabel Marant Sneaker Wedge.
The "King Bey" sneakers are made of stingray, ostrich, calf hair, crocodile and anaconda skins.
Isabel Marant credits Beyoncé for helping increase sales for their sneakers after she wore a black suede version of the shoe in her Love On Top video.
"A hybrid of land and sea skins are used to create this handcrafted creation," Isabel Marant said in a press release. "Stingray, Ostrich, calfs fur, Crocodile, and Anaconda give the already impeccable design attitude and the tones of white mixed with gold stitched details produces a feeling of elegance, mimicking the southern belle's sweet and fierce persona. Perfectly made describes this design best."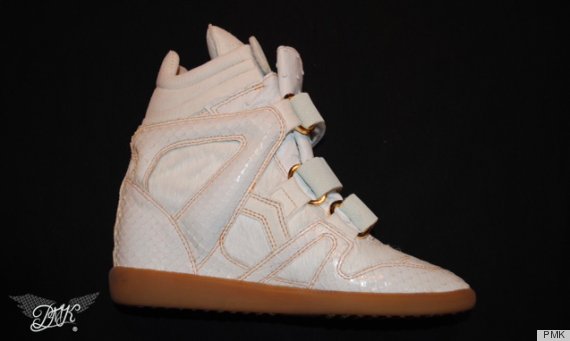 Check out other celebs who have rocked the sneakers.
Isabel Marant sneakers cost $600 and up.
Photos via Elle and PMK